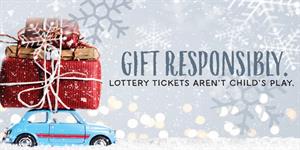 The holiday season is an important time to check in with loved ones about their gambling activities—and to talk with youth about the risks of gambling. The typical stress of the holiday season, combined with increased separation and isolation this year due to the pandemic, can be a trigger for some problem gamblers.
"A change in someone's behavior or an increase in their gambling activity are both warning signs of problem gambling," explains Nancy Quidas, MCF's problem gambling coordinator. "Gambling affects the brain's reward center in the same way drugs or alcohol do. Not being able to control the impulse to gamble is one of the biggest signs there is a problem."
You can help a loved one with a gambling problem by engaging them in a conversation about their gambling activities and encouraging them to do the following:
Set a time limit on gambling activities.
Set a dollar limit, and don't go over it.
Don't gamble to cope with negative feelings or stress.
Don't gamble on credit or borrowed money.
Don't gamble to win back lost money.
Don't gamble to cope with negative feelings or to escape.
In addition, remind other family members to avoid giving the problem gambler dangerous gifts like cash, gift cards or scratch-off tickets. These could encourage more gambling behaviors.
Scratch-off lottery tickets are particularly risky for youth, so it's a good idea to re-think using them as a stocking stuffer or tucking them into holiday cards. Some video games also can encourage gambling in the form of purchasing "loot boxes" that contain hidden game features. Talk openly with your children about problem gambling, and pay careful attention to which games they play, as well as their access to credit cards for in-game purchases.
"Children who gamble before the age of 12 are four times more likely to become problem gamblers," Nancy advises. "Even though we think of scratch-off tickets as fun and harmless, they are actually a form of gambling and illegal in Maryland for children under the age of 18."
If someone you love has a gambling problem, MCF's free family peer support services can help. A member of our staff will listen to your concerns and help you to:
Identify available resources and supports
Understand how to protect yourself financially
Identify assessment and treatment services
Connect to others dealing with similar challenges
Learn about the continuum of services and supports available for problem gambling
To connect with an MCF family peer support specialist, go to mdcoalition.org/get-help-now/Gambling or call 410-730-8267.