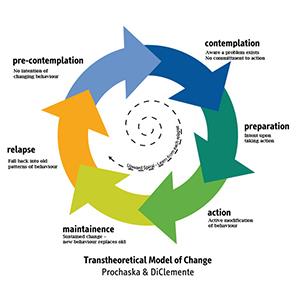 If you have a loved one with a drug or alcohol problem, it can be hard to understand why addiction happens and why it is so hard to escape the cycle of substance use. You may want to help, but feel unsure where to start or what to do. Maryland Coalition of Families is here to help!
On Tuesday, August 11 at 7:00 PM, MCF staff will present Exploring the Stages of Change: Regrounding Our Response. This free online workshop is designed to help participants understand addictive behaviors and the process behind intentional behavior change. Topics to be covered include:
Defining "addiction"
Learning the Stages of Change
Matching interventions to the current stage of readiness
Increasing motivation in the early stages
Practicing harm reduction in the pre-action stages
Managing potential challenges
The Stages of Change model was developed by researchers Prochaska and DiClemente in the late 1970s, as they examined and compared the experiences of smokers who quit on their own with those who required further treatment in order to quit successfully. Their goal was to understand why some people were capable of quitting on their own while others were not. They concluded that people quit smoking only when they were ready to do so, and that there are clearly defined stages leading up to readiness to quit. Not surprisingly, this model also can be applied to individuals with a drug or alcohol addiction.
In the Stages of Change model, change occurs gradually and relapses are often part of the process. People are often unwilling or resistant to change during the early stages, but they eventually develop a proactive and committed approach to changing a behavior. This model demonstrates that change is rarely easy, and it often requires a gradual progression of small steps toward a goal.
Teresa Friend, a Family Peer Support Specialist who is trained to deliver the Stages of Change workshop, says, "I find the Stages of Change model to be very useful for families that have a loved one struggling with substance use challenges. It helps you understand where your loved one is with changing the behavior, how to help them to move on to the next step, how to support them where they are, and how to help them if they relapse."
For more information and to register for the workshop, go here.