If you're looking for a career that lets you turn a challenging life experience into an opportunity to help others, consider becoming a Family Peer Support Specialist! We currently have full-time openings for Family Peer Support Specialists in Baltimore City or Anne Arundel/Prince Georges' counties. Candidates must have personal experience (not work experience) as a family member or caregiver of a loved one with substance use challenges. After training and orientation, the Family Peer Support Specialist provides emotional support, resources, coaching, and follow-up to families seeking assistance.
Our Substance Use Family Peer Support team provides support to families throughout Maryland, and work out of their home as well as in the community. During the pandemic, however, all employees are working from home 100% of the time as we serve families remotely until we can safely return to in-person services. Day-to-day responsibilities include helping families access supports and services; making phone calls to connect families with resources; providing guidance with completing forms and applications; and accompanying them to meetings.
Two of our Family Peer Support Specialists recently shared their feelings about why they love their work: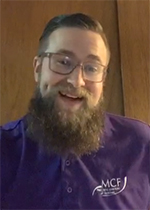 Austin Torsch, a Family Peer Support Specialist at MCF who works with families in central Maryland, finds his job satisfying on a personal level. ""A huge reward of being a Family Peer Support Specialist is that I get to give something to families that I didn't have when I was dealing with my brother's substance use problem. There was no one outside of my family to talk to, and nobody understood what I was going through. I didn't have a support system. That I get to give this kind of support to others who need it is the most gratifying aspect of what I do."
Working at MCF has practical advantages, too. "MCF is a great organization to work for," Austin says. "Having a flexible schedule and being able to work from home are definite advantages. And the supervisors are very supportive."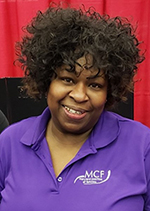 Sabrina Martin is a Family Peer Support Specialist in Baltimore city, who feels strongly about the importance of her work. "Being able to help caregivers navigate the system, and give them someone to talk to with the knowledge they won't be judged—that's what I find rewarding," Sabrina explains. "I give them hope and let them see that although it can be challenging, you can survive this experience."
Having a great group of colleagues is also a big part of job satisfaction. Sabrina shares what she loves about her team: "I love the different dynamics my team brings to the table. We are all from different backgrounds, but we bring together our experiences for our common goal of helping other families. The team we have is incredible. My experiences with my peers have changed my life and helped me to support others in the best way possible."
While many of our current openings are for staff specializing in substance use, we also hire staff to work with families who have children and adolescents with mental health challenges, who have loved ones struggling with problem gambling, and staff who have had loved ones involved with the Juvenile Services System.
If you want to work for an employer who is team-oriented, mission-driven, and understands the value of work-life balance—consider joining MCF. We invite you to review the variety of open positions available by visiting our employment opportunities page on our web site.